Camino de Sydney | Route 3 | Edgecliff to Watsons Bay
Body, Mind, Soul Blog / Sydney, Australia / 17 November 2015
/
Author & Photographer - Janet Zenari / Photographs – Eastern Suburbs, Sydney Australia
/
Bookmark
/
Print
/
Details

Leave a Comment

Related Items
For this camino I didn't do much planning I roughly knew the suburbs and my direction so I decided to go on a bit of adventure. Over 17km later and at 6.30pm in the evening I was at the end of this camino waiting at the wharf at Watson's Bay for a beautiful evening ferry ride back to Circular Quay. To my delight a sleek express private liner was the ride and the fast speed was very much welcomed.
Back to the beginning. Starting at Edgecliff Station I aimed for Rushcutters Bay. Here I was caught up with young energetic people jogging, walking, exercising and pushing prams around the beautiful park. It was like a 20 something haven and everybody looked like they were living in Shangrila. From there the track weaved in and out of harbour side beaches and paths with lots of expensive real estate.  Here crowded apartments and dwellings sort that harbour view that looked majestically towards the Sydney CBD which you could almost touch. From Rushcutters Bay to Darling Point to Double Bay and onto another surprise.
Off New South Head Road was a lovely manicured park, Blackburn Gardens that opened up to a harbour side enclosed pool at Redleaf Beach. Alongside the pool you passed through a gate which opened to a stretch of sandy beach.
Back onto to New South Head Road and wanting to find some peace I was mysteriously allured into a street. Here I found workers busy maintaining and renovating properties. I loved the street and was intrigued by the architecture, landscaping and finery. Some places had stainless steel lifts right on the footpath which looked as though they could take cars to different levels. A few times I sneaked a peak through security gates beyond to open front doors.
There glistening with the sun on the water was that magnificent view of the harbour and city like some magical dream. Hypnotically I walked through that street soaking every aspect of the area and again saw glimpses of views at a tiny public area at Duffs Reserve.  It was only later on that I discovered where I had been. It was Wolseley Road Point Piper home to the most expensive properties in Australia. To give you an idea two years ago, a Wolseley Road five-bedroom three-level European-style villa was on the market for $56.2 million AUD. Don't worry if you are interested in a home there you can find homes on the market in the $4-9 million price range too!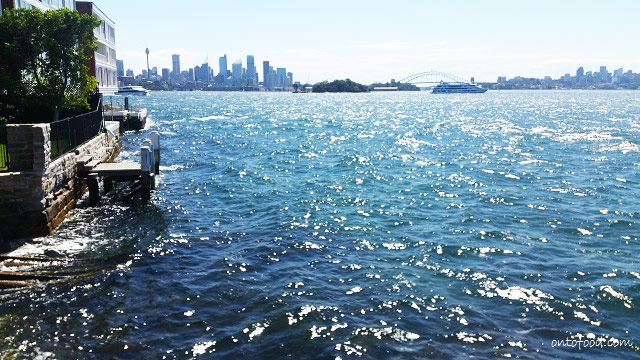 On to Rose Bay I was greeted by a crowd, 2 large black hummers at the front of one of the restaurants. Well the crowd wasn't there for me exactly. For an instance I thought perhaps they had heard about the Camino? This was reinforced when l felt like a VIP when the security guard waved to me allowing to pass by the front of the door. Here I bumped into a man who was exiting and told me the real not fantasy reason the crowd was there. Kendall Jenner was causing all the fuss.
I walked on as if I was part of the entourage, even though I didn't even know who Kendall was and no fans for the Camino? Nevertheless I continued with a jig along the promenade which faintly reminded me of Nice in France. Once past another beach, shops I climbed up along New South Head Road again. Departing there to find the Sydney Harbour National Park Hermitage Foreshore Walk.
Here I walked around the foreshore with breathtaking views, looking over to some of the places I had passed throughout the day, Rose Bay, Point Piper. Here I could see what all those properties had to wake up to each day and say goodnight to, be it more distant. I felt a tremendous gratitude for living in Sydney walking along this track that was still so pristine.
The long track opened up towards Shark Bay Beach. Here young children and grandparents were wading, playing and relaxing all at the end of warm day. It was so idyllic that I could imagine Georges Seurat the French post-Impressionist painter recording these scenes. I soaked in these views and still contemplated the long walk that I still had. Oh dear, left a bit late for this one, ah well I kept on marching on, despite getting an offer for a lift to the Watsons Bay Wharf.
It was then that I started to get a bit tired and found myself winding pass Vaucluse House too late for dropping in by this time. So I walked bravely on dodging in and around streets while heading to Watsons Bay. It felt like I was taking forever and I was certainly the odd one out walking along bare streets.  Finally I hit the Watsons Bay stretch where I was surrounded by visitors and I waited for the beautiful ferry ride back to circular quay.
It's no wonder why Australia is the second best place in the world to live according to the United Nations, with Norway taking the title by a whisker in the annual Human Development Index (HDI) for 2015. For further information click here 
So when we start to grumble about the difficulties of life in Australia it might be time to pause and take a deep breath full of gratitude and to be mindful of those that are not as fortunate here and afar.
I would like to acknowledge the Traditional Owners of the land on which I walked the Eora People of the Cadigal Clan and the Birrabirragal clan. I would like to pay my respects to the Elders past, present and future.
View route map for Camino de Sydney | Edgecliff To Watsons Bay on plotaroute.com
What is the Camino de Sydney?
I had heard of many pilgrimages around the world, like the Camino de Santiago in Spain.  People walking for 7-8 hrs a day for a month or more, walking on a route that had been laid out for many years.  Here you would soul search, ponder life, make friends and connect. I liked this idea but I also like the idea to discover what is close to you as well.  And that is why I thought of simple walks around Sydney where I live. My objectives would be to:
Walk to different spots around Sydney

Use this as a time to reflect

Speak to people along the way

Help anyone that needs assistance

Observe, inquire

Well be a bit of a pilgrim – Sydney style